Bowed Basement Wall Repair Knoxville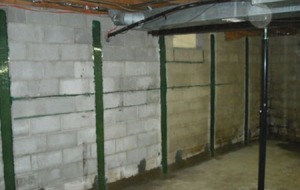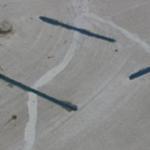 Bowed Basement Wall  and Cracked Concrete Slab Repair
CARBON FIBER STRAPS
Waterproofing Knoxville provides full service, guaranteed, Bowed Basement Wall Repair which includes Carbon Fiber Vertical Wall Strap Installation and Horizontal Corner Tension Straps Installed.
Carbon Fiber/Kevlar Stabilization Straps which are a permanent repair solution for basement walls that are showing signs of cracking or bowing.
In recent years, Carbon Fiber Straps have almost completely replaced the need for large steel beams against the bowing wall which previously required us to set the steel beams into the concrete floor and bolt them into the overhead floor joist system. This intrusive and labor intensive process is no longer needed, Carbon Fiber Straps lock the masonry foundation wall into place, allowing no further movement or bowing.
Basement Waterproofing is needed if there is moisture present on the bowed basement wall area.
Carbon Fiber Straps are stronger than steel and Carbon Fiber Stabilization Straps are none obtrusive.
We also install Carbon Fiber Staples for floors, garage slabs, concrete swimming pools, patio slabs, parking garage slabs, etc.
WALL TIE BACK ANCHORS
Waterproofing Knoxville also installs Tie Back Wall Anchors to secure foundation, basement and retaining walls by securing masonry walls into the soil side and stabilizing walls against the overturning and hydrostatic ground forces pushing against walls.
Waterproofing Pigeon Forge and Waterproofing Gatlinburg also provide Carbon Fiber Strap Installation and Tie Back Wall Anchors Installation.
***Along with Waterproofing, we are also Specilists in Foundation Repair, including, foundation lifting, cracked wall repair, foundation footer erosion repair, carbon fiber strap installation, wall tie back anchors installed and damaged foundation re-construction.